De paso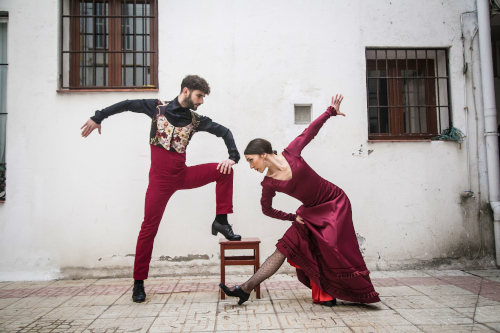 ALBERTO ROMO
The excitement of the unknown, the fear of failure, the joy of sharing our life journey. Shown through images built with bodies and the senses, images give way to dance and music as the only language to know and understand each other. "De Paso" is a show that talks about the path we travel on our journey around the world, and as a meeting point where different lives, temperaments, and emotions intersect.
Sara Pérez, Choreographer and Dancer. Born in Madrid, Sara Pérez began her studies in flamenco and graduated with an honors degree. Her professional career began at the Carlos Vilán Company and at the Madrid Flamenco Ballet. In 2013, Pérez joined tablao El Corral de la Morería. Later with the Casa Patas Foundation, she starred in several international tours. In 2016, Pérez joined the María Pagés Company.
In 2015, she presented "Earth Colors" at the Brasilia International Dance Seminar. With another of her creations, "De Paso," Pérez obtained the second prize for choreography at the XXVI Spanish Dance and Flamenco Choreography Contest in Madrid and the second prize at the XXVI Young Creators Competition of the Madrid City Council, becoming part of the Community Theater Network circuit.
Rubén Puertas, Dancer. Born in Madrid and entered the professional dance conservatory in 2005. In 2006, Puertas joined the Rafael Amargo Company, and in 2010 he joined the Maria Pagés Company In addition, Puertas has worked with the Andalusian Flamenco Ballet for Rafaela Carrasco, the New Spanish Ballet for Marco Flores in "Laberíntica," and with Francisco Hidalgo in "Los Silencios del Baile." Puertas is currently part of the Jesús Carmona Company.
Jaime González, Musical Director and Guitar Player. Studied flamenco guitar at the Casa Patas wit José Manuel Montoya. He also took classes with Oscar Herrero, Diego Del Morao, and Enrique Vargas. His professional career began in 2006 with the band Acebuche. Casa Patas is key fo his career working in shows such as "Querencia" in which he begins to develop his role as a composer together with Sara Pérez. His first great production was "De Paso" (2017) with which González obtained the first prize for Best Flamenco Composition.
Alejandro González, Guitar Player. Graduated with honors as a guitarist at the 21st Century Music School in Madrid, Alejandro González trained in parallel at the Casa Patas Foundation with José Manuel Montoya. At the age of 16, González began his professional career playing in different Madrid tablaos. There, he shared the stage with great figures of flamenco dance and singing. Currently, González works on projects both of his own and those of other artists.
Cristina Soler, Flamenco Singer. She began her career at the age of 12, debuting with Amparo Correa. she won scholarship from the Cristina Hereen Foundation in a young fandango contest. Soler has participated in numerous festivals. Her awards include Other Cantes de Málaga, Granada, Córdoba and Huelva at the LII International Festival of Cante de Las Minas de la Unión, and first prize in the category of Cantes de Levante at the XXXIII Lo Ferro International Flamenco Singing Festival (Murcia). She recently released her first album, "Mar de Cobre."
Ana Polanco, Flamenco Singer. She began in the world of flamenco with the dancer Pilar Ogalla at the age of 10. With guitarist Manolo Sevilla, Polanco began to train and perform all the cantes for the dance. Polanco has continued to demonstrate her artistic credibility thanks to her musical aptitudes, strength, power, and her handling of the beat, qualities that so captivated flamenco star Mariana Cornejo that she wanted to sponsor Polanco artistically.