Yalla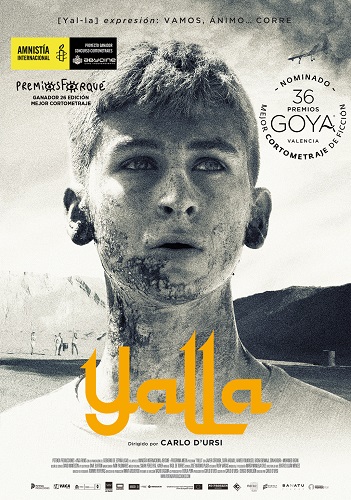 Javier Moreno Cepero
The career of actor, director and producer Carlo D'Ursi is an impeccable project of commitment to those stories that force us to look where we do not want to, to realities outside our daily lives. Diamantes negros (2013, directed by Miguel Alcantud) or Tabib (2017) speak of the lives of people who live in other places on the planet and suffer the effects of war or dependence or vulnerability emanating from poverty. Based on a real event and with fascinating photography, Yalla describes how life can be broken into a thousand pieces by a mistake of technology.
Synopsis: Mufid, a 14-year-old boy plays soccer with his friends. He misses a shot and makes the ball disappear behind a hill. He doesn't want to go looking for it, but he knows he will.
When he enters the area guarded by a military drone, he discovers that Amina has taken his ball. Mufid tries to retrieve it. Hassan takes the ball from the teenagers and throws it inside some ruins; inside, a big secret. The drone goes on alert. Mufid comes out of the ruins with the ball, but the drone is not clear. Mufid becomes a new target. A big explosion will end everything.