Launching of Permafrost. Eva Baltasar and Julia Sanches in conversation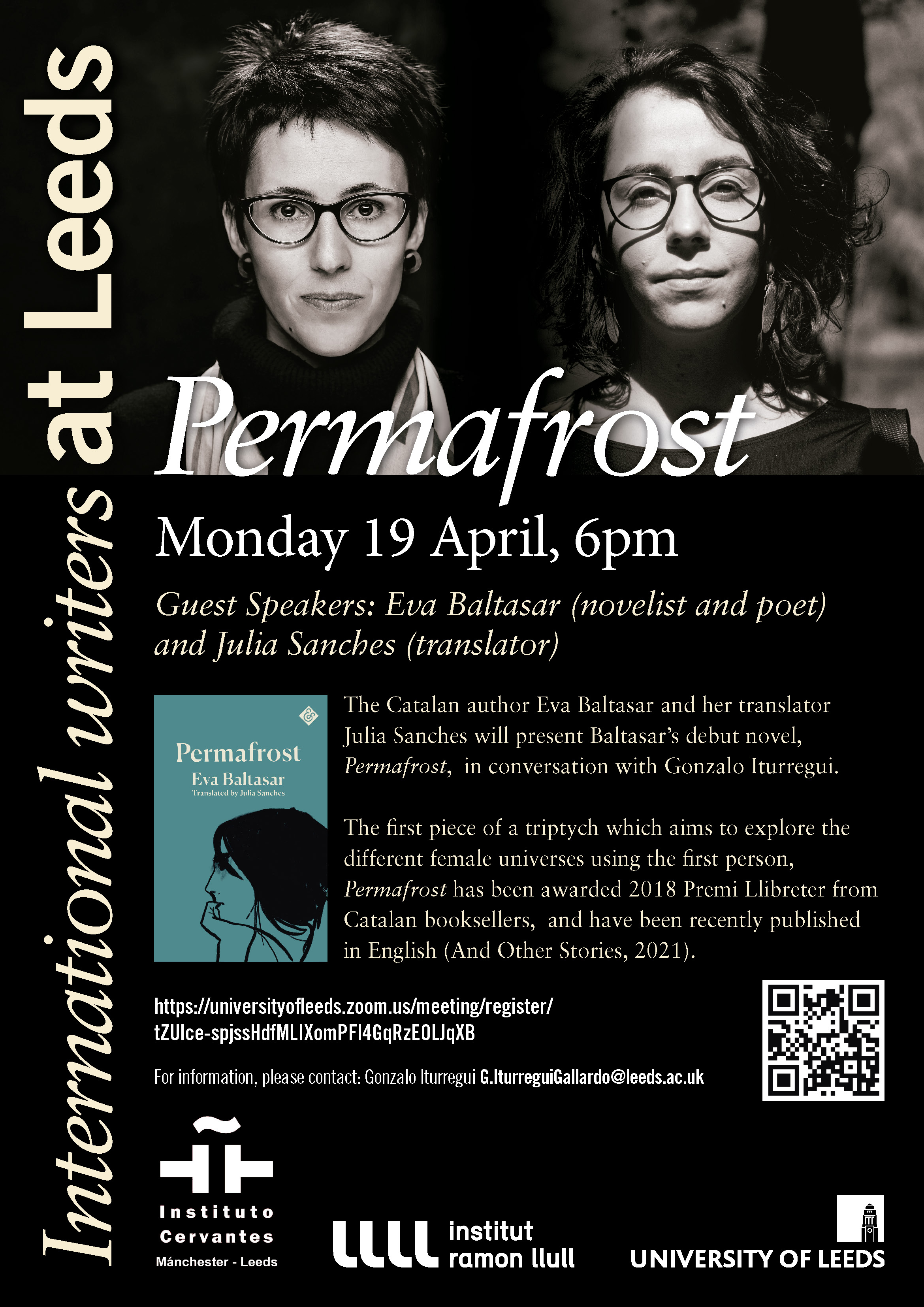 IC
In 2018, the poet Eva Baltasar burst into in the world of prose literature with her first novel, Permagel, the first part of a trilogy followed by Boulder (2020) and Mamut (2021). Without an excessive marketing campaign, word of mouth spread the interest in the novel and Permagel sneaked onto all the bestseller lists of the year in Catalan. This success led that same year to it being translated into Spanish and published under the title Permafrost (Penguin Random House). On 6th April, 2021, the Sheffield based publishing house And Other Stories releases the English translation of this bestseller.
In Permafrost, Eva Baltasar tackles current hot topics such as depression, lesbianism, suicide and non-motherhood, with a succinct but forceful rhythm, and an evocative style infused with Baltasar's poetic background. Eva Baltasar and the novel's translator, Julia Sanches, will discuss these and many more ideas, in a conversation moderated by the University of Leeds professor and translator, Gonzalo Iturregui.
Eva Baltasar has succesfully published ten volumes of poetry. Her first novel, Permafrost, received the Premi Llibreter 2018 from the Catalan booksellers for the best novel of the year, and was shortlisted for the Prix Médicis de France 2020 as Best Foreign Language Novel. To date, she has already assigned the translation rights in eight languages. Boulder, the second part, was the Òmnium Prize winner for the best novel in Catalan of 2020. At the end of the conversation there will a space for Q&A.
Julia Sanches is a translator from Portuguese, Spanish and Catalan. For And Other Stories, she has translated Now and in the Time of Our Death by Susana Moreira Marques, Permafrost by Eva Baltasar and Burnt and Slash by Claudia Hernández, for which she won a PEN / Heim award. She has also translated works by Noemi Jaffe, Daniel Galera, and Geovani Martins, among others. She is a founding member of the collective of translators Cedilla & Co. and currently lives in Providence, Rhode Island (USA).
Gonzalo Iturregui is a Catalan reader at the University of Leeds. He is a doctor in translation and intercultural studies (UAB). His research interests focus on translation and audiovisual accessibility. He has used an interdisciplinary approach that includes fields such as reception research and gender studies. He combines his teaching duties with freelance work as a translator and audio describer mostly in the field of the scenic arts.


Event organized in collaboration with the International Writers At Leeds programme from the University of Leeds; the Institut Ramón Llull in London; and the publishing house And Other Stories.