International Dance Day: Transcending Borders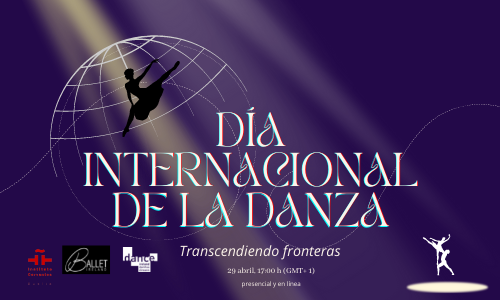 Marta Villarte
During the month of April we'll celebrate dance as a universal language that brings together spectators and dancers in a dialogue between cultures and artistic disciplines throughout the globe.
In this round table moderated by Laura Bruña (Rehearsal Director, Ballet Ireland) we'll hear the voices of different professionals from the Hispanic, Irish and International dance world. The guests will talk about diversity and cultural integration, the ability of the dance art to transcend borders - whether idiomatic or cultural -, the connections between dance and other arts, as well as cultural shock and integration. In short, dance as a universal experience, open to the enjoyment of all.
We will be joined by Anne Maher (Director, Ballet Ireland), the Irish dancer and choreographer Zoë Ashe-Browne (Associate Dance Artist of Dance Ireland, 2021/2022), and the Brazilian dancer and choreographer based in Dublin, Anderson de Souza.
In addition, we invite you to discover four young dancers wich come from Spain. Get closer to his art through images and words in four audiovisuals that we will premiere on Wednesdays in April on
our YouTube channel
.
If you want to know more about this universal language, join our celebration!
...
Artists Bios
Zoë Ashe-Browne is an award winning dance artist and maker from Dublin, Ireland. She has been professionally engaged with The National Ballet of Ireland, English National Ballet, Opera Ballet Flanders (formerly the Royal Ballet of Flanders), and Eastman (Sidi Larbi Cherkaoui). Her work as a choreographer has been programmed in Ireland and Belgium. Zoë is currently Associate Dance Artist of Dance Ireland for 2021/2022.
Anne Maher is one of Ireland's most respected voices in ballet and dance, with an international career spanning over thirty-five years. After some years of study and touring internationally, Anne returned to Ireland in 1997 to found Ballet Ireland, which she continues to develop as a successful and vibrant national touring company.
Laura Bruña Rubio is Rehearsal Director at Ballet Ireland. Originally from Madrid, where she completed her dance studies, Laura joined the Stuttgart Ballet as a dancer and pursue an international career joining the English National Ballet and the Ballet de la Generalitat Valenciana. She also works as a répétiteur with Valencia Dancing Forward (VDF) and has been a guest teacher at the Choreographic Centre of Valencia, Ballet Nacional de Marseille and Ballet Basel. In recent years, Laura has also explored her own choreographic path. She is currently the Rehearsal Director of Ballet Ireland.
Anderson de Souza began his dance training at age 14. Originally From Brazil, he began his professional career as a performer and teacher when he worked abroad in 2011-2012 in Greece, Italy, Turkey, Spain and Croatia. He was guest performer to the project Distante Dialogue in the Akademie Schloss Solitude (Stuttgart, Germany), and guest dancer and choreographer for Dublin Young Dance Festival in 2013. Anderson is an experienced teacher in a variety of dance languages and has achieved high-level dance training in Musical and Lyrical Jazz techniques, Ballet, Urban Contemporary Dance and Street Jazz, Stiletto.