Tarab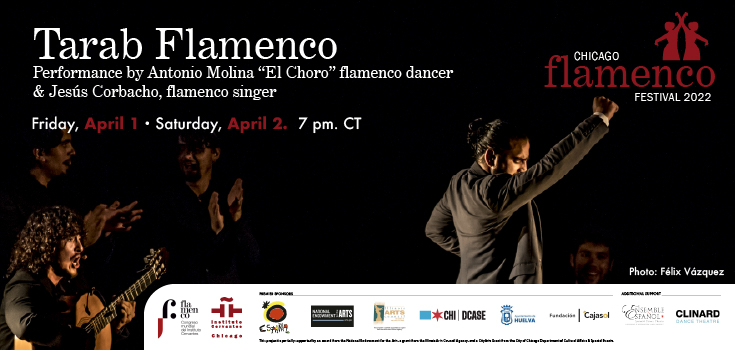 Kike Garpe
Dancer Antonio Molina "El Choro" has performed in Andalusian theaters and with flamenco groups all over the world. He was born in Huelva and learned flamenco with his father and with artists such as Javier Latorre, Antonio El Pipa, Javier Barón and Antonio Canales. In 2004, El Choro performed in the Jerez Festival and in the XIII Flamenco Biennial in "Don Juan Flamenco." Two years later, he started his own company working in Portugal and the Netherlands. In 2008, El Choro performed in "Leolé" with Leonor Leal in the Jerez Festival. The following year he joined the company of Manuela Carrasco performing in the show "Suspiro Flamenco" in the Central Theatre of Seville and Japan.
El Choro joined the company of Vicente Amigo, with whom he toured the United States, in 2015. A year later, he premiered his show "Notice, Bayle Gypsy" at the Festival de Jerez, Albuquerque and in the Bienal de Sevilla and Suma Flamenca in Madrid. All of them received great recognition. In 2016 he won the Revelation Prize at Festival de Jerez. El Choro's next tour will include Europe, Portugal and the U.S. He currently accompanies acclaimed flamenco artists Miguel Poveda and Vicente Amigo in concerts.    
Born in Huelva in 1986, Jesús Corbacho Vazqúez is best known in the world of flamenco singing as Jesús Corbacho.  .His love of flamenco started at an early age; at just 3 years, he sang his first fandangos, a hobby inherited from his father. At the age of 9, he began his guitar studies at the Peña Flamenca de Huelva. It was at that time he realized his passion for cante, so he began to study the fandangos of his land. At the age of 11, he won the First National Prize for Fandangos at the "Paco Toronjo" Contest in Alosno, in the Children's Category, repeating this award four years later in the Adult Category. In addition, Corbacho received a dozen prizes from other contests of the province. Corbacho has worked with dancers such as Belén Maya, Manuel Liñan, Olga Pericet, and the National Ballet of Spain among others. In addition, Corbacho has shared the stage on several occasions with artists such as José Mercé, Arcángel, Estrella Morente, and Mayte Martín.