Sonidos Negros: On the Blackness of Flamenco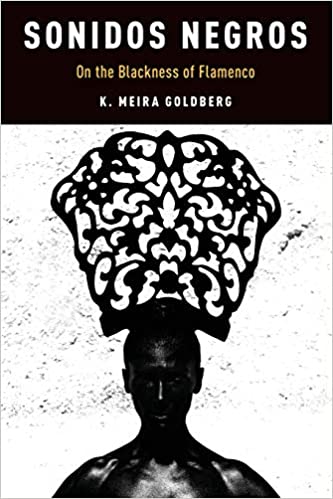 K. Meira Goldberg
How is the politics of Blackness figured in the flamenco dancing body? What does flamenco dance tell us about the construction of race in the Atlantic world? Sonidos Negros traces how, in the span between 1492 and 1933, the vanquished Moor became Black, and how this figure, enacted in terms of a minstrelized Gitano, paradoxically came to represent Spain itself.
The imagined Gypsy about which flamenco imagery turns dances on a knife's edge delineating Christian and non-Christian, White and Black worlds. This figure's subversive teetering undermines Spain's symbolic linkage of religion with race, a prime weapon of conquest. Flamenco's Sonidos Negros live in this precarious balance, amid the purposeful confusion and ruckus cloaking embodied resistance, the lament for what has been lost, and the values and aspirations of those rendered imperceptible by enslavement and colonization.  
K. Meira Goldberg "La Meira" K. MEIRA GOLDBERG is a flamenco performer, choreographer, teacher, and scholar. In 1980s Madrid, she performed nightly in flamenco tablaos alongside artists such as Antonio Canales, Arturo Pavón, El Indio Gitano, and Diego Carrasco. In the US, she was first dancer with Carlota Santana, Fred Darsow, and Pasión y Arte. Since going grey, she has instigated and collaborated on 100 Years of Flamenco in NYC (NYPL, 2013), Flamenco on the Global Stage (McFarland, 2015), The Global Reach of the Fandango in Music, Song and Dance (Cambridge Scholars, 2016), Transatlantic Malagueñas and Zapateados in Music, Song, and Dance (Cambridge Scholars, 2019), Indígenas, africanos, roma y europeos. Ritmos transatlánticos en música, canto y baile (Música Oral del Sur, 2021), and Celebrating Flamenco's Tangled Roots: The Body Questions (Cambridge Scholars, 2022), Forthcoming projects include Flamenco: History, Performance and Culture, with Michelle Heffner Hayes (Cambridge University Press, 2023), and a monograph, Perra Mora: Love and War in the Body of a Woman. She teaches at FIT and is Scholar-in-Residence at the Foundation for Iberian Music (CUNY). Her monograph, Sonidos Negros: On the Blackness of Flamenco (Oxford University Press, 2019 and, translated by Kiko Mora, Libargo 2022), won the Barnard Hewitt Award for best 2019 book in theatre history or cognate disciplines, as well as Honorable Mention for the Sally Banes Publication Award for best exploration of the intersections between theatre and dance/movement, both from the American Society for Theatre Research.
Kim Grisby, nonprofit professional, has been bridging the gap between opportunity and underutilized resources for the past 10 years. She serves as the development manager for Ensemble Español, where she leads efforts to facilitate philanthropic gifts and grants to advance the mission of the organization. Additionally, Kim is head of strategy for the Chicago Community ToolBank and is one of the founders and advisors of the Marvin L. Winans Educational Foundation as well as an advisor to the From the Bottom Up Foundation. Prior to working in the non-profit world, Kim served as a litigating attorney, both for the state of South Carolina and in private practice. In her spare time, Kim volunteers with young people and speaks to students on the value of education.