Maria Terremoto in concert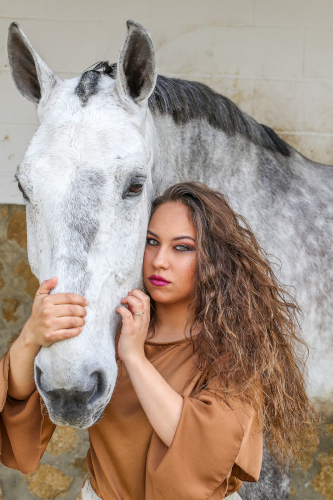 LORENZO CARNERO/AGENCIAPUNTOPRESS
María Terremoto. Flamenco singer is the youngest artist ever to receive the Giraldillo Award for New Artist at the Seville Flamenco Biennial.
She is a descendant of the saga of the "Terremoto" family of Jerez de la Frontera, a lineage of great masters. Terremoto is the granddaughter of the genius of cante Fernando Fernández Monge "Terremoto de Jerez" and daughter of cantaor Fernando Fernández Pantoja "Fernando Terremoto."  
Since she was a child, she has participated in many flamenco zambombas with her family, in which she unwittingly becomes the absolute protagonist of each performance. At 9 years old comes an important moment in her life, as it is claimed by her own father, the great Fernando Terremoto, to climb the tables of the flamenco club that bears his name. That day occurrs one of the moments that will be remembered forever by all who were there because without intending it Fernando passed the artistic witness to his daughter Maria in what would be his final farewell to the stage.  
Her consecration as a flamenco singer came at the 2016 Flamenco Biennial, where she performed a recital that many have called historical, named by the press as "The banner of young sing" and "The true promise of singing." After a flood of unbeatable criticism, she is awarded the prestigious Giraldillo Revelación 2016 prize, being the youngest artist in history to achieve it, which catapults her to the forefront of the flamenco scene.  
In 2018, Terremoto releases her first studio album, called "La huella de mi sentío." 
Javier Ibáñez. Flamenco guitar
Born in Seville (1979), he soon moved with his family to Jerez de la Frontera, where he began at the age of 11 to take flamenco and classical guitar classes with teachers Manuel Lozano "El Carbonero" and José Luis Balao.
He has been part of the cast of musicians of the Mercedes Ruiz Flamenco Company from 2006 to 2011, participating in events such as the Lyon Dance Biennial (France), Maison de la Danse Theater, the XIV Seville Flamenco Biennial, Alameda Theater and at the Stagione 2008 Lirica e Balletto, Malibran Theater in Venice (Italy). He has also worked since 2007 for the Flamenco Company of Antonio "El Pipa", being a participant in the XIII Seville Flamenco Biennial, Lope de Vega Theater, New World Flamenco Festival in Los Angeles (California), Irvine Barclay Theater and in the Teatro National San Jose (Costa Rica).
Along with the guitarists Keko Baldomero, Jesús Guerrero and the percussionist Israel Katumba, he is a member of the flamenco musical quartet "Bajañí IV", an original idea by David Palomar. He has taught different flamenco guitar courses, such as those organized through the Seville Art and Flamenco Center of Esperanza Fernández and Miguel Vargas in the VI (2012), VII (2013) and VIII (2014) International Flamenco Course in Cadiz.
With the artist from Huelva, Argentina, he performed in 2015 at the Juan Bernabé Municipal Theater in Lebrija (Seville) and within the Malaga Flamenco Biennial at the Plaza España in Nerja (Málaga). At the end of 2015, he joined the artistic cast of winners and finalists of the Festival de Cante de Las Minas de La Unión, within El Musical Las Minas Puerto Flamenco Tour, performing at the Auditorium of the Motril Tourism Development Center (Granada) and the Joaquín Rodrigo Auditorium. de Sagunto (Valencia), Teatro Real de Madrid and on an international tour through countries such as Mexico, Australia, Canada, USA, Ecuador, Bolivia and Chile.
Singer Ezequiel Benítez invites him to record on two of his albums, QUIMERAS DEL TIEMPO (2015) and QUIMERAS DEL TIEMPO, RECUER2 (2018) together with guitarists such as Paco Cepero, Gerardo Núñez, Javier Patino, Manuel Parrilla, Diego del Morao, Keko Baldomero and José de Pura.
On guitarist Javier Patino's solo album, ORO NEGRO, he is the author and co-author of the lyrics and music for two of his songs, En la Alame