Symphony of the Body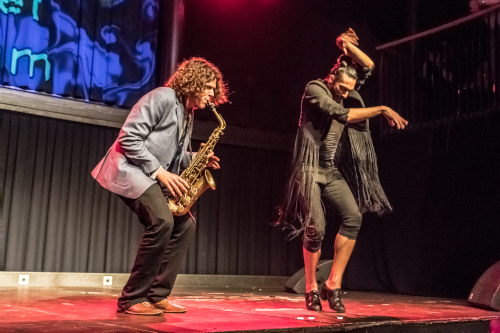 Eno Abel (GROUNS ROTTERDAM 2019)
A flamenco without frills, a visceral encounter between the raw melody and the dance. The cante and the saxophone evoke the body, which slides between the most traditional flamenco and the most contemporary and avant-garde dance.
Antonio Lizana and Eduardo Guerrero, solos, dance and melodies, establishing a spontaneous dialogue, without plot lines or linear progressions, working with space, creating new atmospheres each time, involving the viewer as an active part of the piece, of the environment, of music and dance.
Edward Guerrero. Flamenco dancer
Edward Guerrero has been part of the companies of Eva Yerbabuena, Aida Gómez, Rocío Molina, Javier Latorre, and Rafael Aguilar, among others, touring around the world and participating in highly prestigious events. As of 2011, he began to tour with his own shows: De Dolores
Guerrero's performances/works include De Dolores (2011), Las Minas (2012), Return (2013), El Alley of Sins (2014), Desplante (2015), Guerrero (2016), A Solo Piece for a Flamenco Dancer (2016), Faro (2017), Sombra Efímera (2018), Sombra Efímera II (2019), and his latest and most transgressive piece "Under the Feet," which premiered at the Villamarta Theater. With these creations, Guerrero participates in the most important events surprising and exciting critics and audiences.
It is the moment of this great dancer who, with current aesthetics, a refined technique and talent, a deep knowledge of the essence of flamenco, and his enormous vital force, has positioned himself among the great names of international dance.
Antonio Lizana. Flamenco saxophone and singer.
He is one of the most famous representatives of the new Flamenco Jazz from the south of Spain. Jazz saxophonist, flamenco singer and composer of all his music, in the last three years alone he has performed around three hundred concerts with his band in more than 30 countries, participating in festivals such as Womex, Etnosur, SXSW Austin, London, Festivals of flamenco from New York and San Francisco, Barcelona Voll Damn, Shanghai Jazz Fest (China), Casablanca Jazz Fest (Morocco) and Flamenco Biennale (Holland).
He has released four albums since his project began in 2012 and has been one of the only Spanish artists to record an American NPR Tiny Desk concert.
He has collaborated with artists such as Arturo O'Farrill and Alejandro Sanz in works that received Grammy awards; also with Snarky Puppy, Chano Domínguez, Jorge Drexler, José Mercé, Pepe Habichuela among others.