Conversation with Antonio Muñoz Molina - To Walk Alone in the Crowd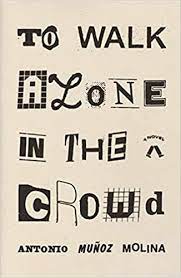 Gretchen Achilles
On the occasion of the presentation of the English translation of "Un andar solitario entre la gente" (To walk alone in the crowd), the author, Antonio Muñoz Molina, will talk with the writer and professor Edward F. Stanton.
From the award-winning author of the Man Booker Prize finalist Like a Fading Shadow, Antonio Muñoz Molina presents a flâneur-novel tracing the path of a nameless wanderer as he walks the length of Manhattan, and his mind.
De Quincey, Baudelaire, Poe, Joyce, Benjamin, Melville, Lorca, Whitman . . . walkers and city dwellers all, collagists and chroniclers, picking the detritus of their eras off the filthy streets and assembling it into something new, shocking, and beautiful. In To Walk Alone in the Crowd, Antonio Muñoz Molina emulates these classic inspirations, following their peregrinations and telling their stories in a book that is part memoir, part novel, part chronicle of urban wandering.
A denunciation of the harsh noise of capitalism, of the conversion of everything into either merchandise or garbage (or both), To Walk Alone in the Crowd is also a celebration of the beauty and variety of our world, of the ecological and aesthetic gaze that can, even now, recycle waste into art, and provide an opportunity for rebirth.